Vice Chancellor's Message
As the Chief Commissioner of the Sri Lanka Scout Association and the Vice Chancellor of KDU, it's my pleasure to pen a few words on Rover Scouting along with its celebration of 101 years in Sri Lanka.
Rover Scouting was founded by Lord Baden Powell in 1918, and Sri Lanka formed her first-ever Rover Crew in 1920. Rovering, as the direct continuation of Scouting, finds first and foremost its application to the personal development and character growth of youngsters; for them to be inter-connected to the world; to lead a home life with real values and virtues as good citizens. This movement leads young girls and boys to self-discipline and self-reliance, to an honest pride in work, to a clean patriotism, and to relate their service to the religion.
As a milestone in the history of Sri Lanka Rovering, in 2020, the First ever National Rover Crew was formed at General Sir John Kotelawala Defence University (KDU), Ratmalana comprising of 100 Officer Cadets and day scholars. The event was organized to commemorate the Centenary Year of Rover Scouting in Sri Lanka. Since inception, KDU rovers have actively organized and participated at several social events physically and virtually in spite of the current pandemic situation strictly abiding to the health guidelines showing resilience and determination.
I would like to wish all the best for KDU Rover Scouting team in their future endeavours; developing as good citizens to the country on the path of rover promise and law.

Major General Milinda Peiris RWP RSP VSV USP ndc psc MPhil (Ind)
What is Rover Scouting?
Rover Scouts are the Young Adult Learners of the Scout Movement. The youngsters. Between 17 ½ -24 years old usually meet every other week for about 2 hours. Rover Crews can be comprised of Rovers who are invested, non-invested or the newcomers from the local area, town or city, or at high school, university or vocational institution level or further afield. Rovering provides great opportunities for adventure, exploration and service with full of fun and satisfaction. They might find happiness through social activities, gathering of youth such as "moots", hence there are many of opportunities to socialize and meet new people.
Rover Scouting in KDU...
Rover scouting is one of the leading and highly recognized sport activity in our university which carries the self esteem of individuals to a higher level. Here we have 111 National Rover Scouts, 89 School Level Scouts and 24 President Scouts. Among them we have 5 scout leaders as well.
For more information about KDU Click Here
What we do?
Smart Scout Uniform Leadership Teamwork Debating Public Speaking Archery Hiking Cycling Camping Singing Scout Yell's Pioneering Hand Axe & Knife Throwing Jungle Tracking Rock Climbing
Vision
"To be the Foremost in transforming youth in Sri Lanka to become agents of change in communities based on shared values, guided by the Scout Promise and Law."
Mission
"To contribute to the education of young people, through a value system based on the Scout Promise and Law, to help build a better world where people are self-fulfilled as individuals and play a constructive role in society."
Governance
The World Organization of the Scout Movement (WOSM) is made up of 171 National Scout Organizations all over the world, divided into six Regions: Africa, Arab, Asia-Pacific, Eurasia, Europe and Interamerica. The World Scout Conference, which takes place every three years, is the governing body of WOSM. It elects a World Scout Committee, which is the executive body of the organisation. The World Scout Bureau is the secretariat and is headed by a Secretary General.
Story of Rovering
The Rover program had its origins in two different schemes. The first, aimed at Boy Scouts in the United Kingdom who were aged between 15 and 18 years old, was called "Senior Scouts" which was launched in March 1917 during World War I. It quickly became apparent that there weren't enough adult male leaders available in wartime, and it was several decades before the Senior Scout program was established. The second scheme was the series of 'Battlefield Scout Huts' provided for the recreation of British and Empire soldiers in rear areas of the Western Front. Related to these was the St George's Scout Club for servicemen, which operated in the English garrison town of Colchester under the leadership of "Uncle" H. Geoffrey Elwes. From these projects, it became apparent that there was a need for a Scouting related program that catered for young men, many of whom would shortly be returning from the war.
Chief Scout
HE. Gotabaya Rajapaksa
President of The Democratic Socialist Republic of Sri Lanka
Chief Commissioner
Maj. General Milinda Peiris
Sri Lanka Scout Association
Method of Training
Rover Crew meetings shall be conducted at least once in two weeks with the supervision of a trained Rover Scout master ( at least Phase 01) at a convenient place. When Girls' in Scouting of Rover Scout Section are trained, participation of a female trained Rover Scout master is compulsory. It is compulsory to practice Crew method, Cluster method and Crew in Council in line with Youth program hand book of the Rover Scout Section.
Awards and Badges
BP Award
Baden Powell Scout Award which is known to be the BP Award is the highest achievable award for scouts as well as guides in some countries. Its designed to challenge and to test those who test in this path.
Rover Scout Membership Badge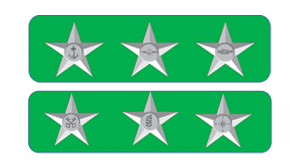 Rover Scout Service Stars
Origin of Rover Scouting
Origin of "Rover Scouts" happened in August 1918. This was introduced to the world by Sir Robert Baden Powell through the "Boy Scouts Headquarters Gazette". The booklet "Rules for Rover Scouts" was issued in September 1918 and thereafter the scheme was fully established by November 1919.
History of Scouting
The initialization of scouting was taken place in 1907 and this was founded by Lord Robert Baden Powell lieutenant general in the British Army serving from 1876 until 1902 in India and Africa. The founder Lord Robert Baden Powell was born in 1857 in England. He won a scholarship which gave him entry into the British Army, where he was sent to India and served for many years. In January 1908, Baden-Powell published the first edition of "Scouting for Boys". It was an immediate success and has since sold over 100 million copies, making it one of the bestselling books of all time.
News and Events
We are glad to announce the first Scout Roving website in Sri Llanka on 27th August 2020 integrating with KDU.
Achievements
Membership Badge Scout Award District Commissioner Corde Bushman's Thong Chief Commissioner Award President's Scout
Objectives of Rover Scout Section
1)Molding one's life as a disciplined and valued person through spiritual development 2)Making the right mental and physical progress to take responsibility for socializing as a mature person 3)Personality and character development, good citizenship and building self-confidence 4)Improving the principles and training methods acquired through books and scout training, and making opportunities to study them further 5)Getting help to strengthen their own future by encouraging further education. 6)As soon as they have identified their academic limitations and talents, they should be able to reap the benefits of the vocational training opportunities and make their lives a success. 7)Continue the work of advising and contributing to the progress made after starting a career.
Rover Scout motto
"We serve"
The World Scout Conference
The World Scout Conference is the governing body, the "general assembly" of Scouting, and is composed of all the members of the World Organization: the National Scout Organizations (NSOs). An NSO can have a maximum of six delegates at a World Scout Conference.
"Rovers are a brotherhood of the open air and service; hikers on the open road and campers of the woods; able to shift for themselves and equally able and ready to be of some service to others."
('Rovering to Success', Pg.107)
"The first duty a Rover Scout owes, after his duty to his religion, is his duty to himself, so that he can so educate and train himself that he may be able to stand on his own, and in his turn, to render help to others. Even those who are older used to realize that they must establish themselves first before they can do well to the others"
('Aid to Scout mastership', Pg.107)
---