Message from the Director
Welcome to the International Relations Office (IRO) of General Sir John Kotelawala Defence University (KDU). I invite you to explore our web, get to know who we are and what we do.
IRO was established in April 2020 after realizing the importance of international linkage to improve KDU's global ranking. IRO promotes multi-disciplinary, multi-institutional collaborative research, actively engage with partners abroad to seek more international students to KDU degree programs, facilitate staff and students with resources, and provide a platform for scholarly exchange.
As the Director of IRO, my priority, therefore, is to help KDU achieve the status of a global University, thereby assist its staff and students to strengthen and establish links with international partners. I always encourage proposals for new partnerships, collaborations, and agreements. It is with this in mind that I warmly welcome all of you with an interest to establish a connection with KDU to contact IRO.
Dr KMGP Premadasa (Ph.D)
Director
Ms. WAG Thilini
Temporary Demonstrator
BSc (Hons) (Colombo)


Meet International Relations Coordinators from Faculties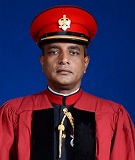 Faculty of Defence and Strategic Studies
Lt Col LR Amarasekara SLAC
Faculty of Allied Health Sciences
Dr. Amila M Abeysekera
Faculty of Medicine
Dr. AD De Silva
Faculty of Built Enviroment & Spatial Science
Archt. RGN Lakmali