Rear Admiral HGU Dammika Kumara, VSV, USP, psc, MMaritimePol, BSc (DS) assumes duties as the Vice Chancellor of KDU
Posted by

Categories

News

Date

September 1, 2023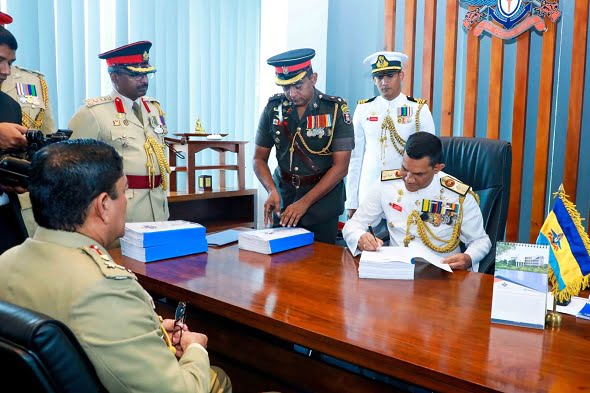 Rear Admiral Dammika Kumara VSV, USP, psc, MMaritimePol, BSc (DS) assumed duties as the new Vice Chancellor of the General Sir John Kotelawala Defence University in the morning hours of  01st September 2023 by signing the first official document amidst the chanting of Pirith by Maha Sangha.
Rear Admiral Dammika Kumara is the first KDU alumni to become the Vice Chancellor of KDU, and prior to this appointment, Rear Admiral Dammika Kumara served as the Commandant Volunteer Naval Force of the Sri Lanka Navy and the Commander Eastern Naval Area of the Sri Lanka Navy.
The official duty assumption of the new Vice Chancellor was followed by a guard turnout, a colourful ceremonial parade with KDU colours, and a symbolic tree planting to mark the event. The parade was participated by the Deputy Vice Chancellors, Rectors of Campuses, Deans of Faculties, Centre-Directors, Senior Tri-service and Administrative staff, and a cross section of officer cadets and day-scholars.  
Later in the morning, the new Vice Chancellor addressed the Academic and Administrative staff of KDU at the Faculty of Graduate Studies Auditorium, where he explained his vision towards taking KDU forward during his tenure as the Vice Chancellor. He drew the attention of the staff to several areas of emphasis such as the provision of quality education to students, enhancement of research output, sustaining and enhancing on the Times Higher Education rankings and so on, for which he requested the fullest support and the willing cooperation and contribution of all staff to take the KDU forward.
Further, the Vice Chancellor expressed his gratefulness to HE the President for appointing him for the new post and to the present Commander of the Navy and his predecessor for nominating him. He also gratefully remembered the Commandants, Commanding Officers, lecturers and instructors of KDA during his studentship who groomed him to be able to take up the high responsibility as the Vice Chancellor of KDU. Further, the new Vice Chancellor appreciated the contributions made by former Vice Chancellors of KDU and Commandants of KDA to elevate KDU to its present status, especially that of the role played by Maj Gen Milinda Peiris to elevate KDU to its present status as a fully-fledged university, and he pledged to carry forward the legacy towards achieving further heights for KDU in the field of higher education while fulfilling the needs of the tri-services to the maximum.