Death Cannot make us them forget They remain fresh in our memory At the Sunrise and Sunset. We greatfully recall their glory The bond between them and us Keeps them young and alive thus   Sri Lank Army SR No. INTAKE RANK NAME DATE 1 1 Capt WNJW Perera 21.01.1986 2 4 Capt BG Mahipala […]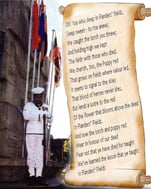 Death Cannot make us them forget
They remain fresh in our memory
At the Sunrise and Sunset.
We greatfully recall their glory
The bond between them and us
Keeps them young and alive thus
| | | | | |
| --- | --- | --- | --- | --- |
| SR No. | INTAKE | RANK | NAME | DATE |
| 1 | 1 | Capt | WNJW Perera | 21.01.1986 |
| 2 | 4 | Capt | BG Mahipala | 13.09.1990 |
| 3 | 4 | Capt | DP Hettiarchchi | 18.07.1991 |
| 4 | 5 | Capt | HMDR Kusumsiri | 06.02.1991 |
| 5 | 5 | Capt | SKD Palliyaguru | 14.07.1991 |
| 6 | 5 | Capt | DTIM Patabendige | 19.07.1991 |
| 7 | 4 | Maj | DPP Perera | 09.02.1992 |
| 8 | 8 | O/Cdt | RMJ Rathnayake | 18.04.1993 |
| 9 | 6 | Maj | NC Jayakodi | 29.09.1993 |
| 10 | 1 | Lt Col | DTK Hettiarchchi | 13.06.1995 |
| 11 | 9 | Capt | KCDL Gunathilaka | 30.10.1995 |
| 12 | 7 | Maj | MBLAB Fernando | 22.11.1995 |
| 13 | 9 | Maj | WP Sumanadasa | 23.12.1995 |
| 14 | 9 | Capt | CC Mendis | 05.01.1996 |
| 15 | 7 | Maj | NKK Abeyrathna | 18.07.1996 |
| 16 | 9 | Capt | MAJSK Mallawaarachchi | 18.07.1996 |
| 17 | 9 | Capt | DAN Fernando | 24.09.1996 |
| 18 | 6 | Maj | VJK Thalawathugoda | 26.09.1996 |
| 19 | 8 | Maj | HADNS Ranasinghe RWP | 09.01.1997 |
| 20 | 10 | Capt | MS Abeysekara WWV | 24.05.1997 |
| 21 | 6 | Maj | HHGAV De Silva WWV | 24.06.1997 |
| 22 | 8 | Maj | P Wickramasekara RSP | 21.08.1997 |
| 23 | 7 | Lt Col | KRH Lokuge | 30.08.1997 |
| 24 | 8 | Maj | BR Marrikkar | 11.02.1998 |
| 25 | 11 | Lt | KRP Gunasena | 11.02.1998 |
| 26 | 7 | Maj | SRS Dharmarathna WWV RWP | 20.04.1998 |
| 27 | 12 | Lt | KUJK Ariyawansa | 07.06.1998 |
| 28 | 6 | Capt | VPKP Ramanayake | 11.09.1998 |
| 29 | 6 | Maj | SP Vidanage | 25.09.1998 |
| 30 | 10 | Capt | BSN Fernando | 27.09.1998 |
| 31 | 13 | 2/Lt | AKPS Kumara | 12.05.1999 |
| 32 | 6 | Lt | SAR Pathmasiri | 10.06.1999 |
| 33 | 8 | Maj | KLPR De Mel | 16.09.1999 |
| 34 | 13 | Capt | MG Weeratunga | 14.12.1999 |
| 35 | 13 | Capt | TR Saino | 26.12.1999 |
| 36 | 14 | Capt | PKJK Pallage | 22.01.2000 |
| 37 | 12 | Capt | RMSN Rajapakse | 29.03.2000 |
| 38 | 12 | Lt | TMA Sooriyabandara | 29.03.2000 |
| 39 | 13 | Capt | VGS Siriwardana | 02.04.2000 |
| 40 | 13 | Lt | KTM Kuruppu | 14.04.2000 |
| 41 | 4 | Lt Col | K Hapuarachchi RSP | 19.04.2000 |
| 42 | 10 | Maj | KD Attanagoda | 30.04.2000 |
| 43 | 13 | Capt | AUK Mudalithanennehelage | 10.05.2000 |
| 44 | 9 | Maj | MAUP Edirimanna | 03.09.2000 |
| 45 | 10 | Maj | TAV Macklvie | 03.09.2000 |
| 46 | 10 | Maj | MNPN Jayasinghe | 03.09.2000 |
| 47 | 13 | Capt | KAC Karunarathna | 14.06.2000 |
| 48 | 12 | Capt | RAWK Perera | 31.10.2000 |
| 49 | 13 | Capt | CS Wijewickrama | 31.10.2000 |
| 50 | 14 | Capt | RKB Ramanayake | 25.04.2001 |
| 51 | 4 | Maj | PHW Warnakulasuriya | 21.09.2004 |
| 52 | 18 | Capt | SP Hewage | 09.06.2006 |
| 53 | 5 | Maj | GK Bamunuarachchi | 13.05.2006 |
| 54 | 17 | Maj | KMCB Karunathilaka | 31.07.2006 |
| 55 | 20 | Capt | JDDS Ranasinghe | 13.08.2006 |
| 56 | 20 | Capt | KHDM Premarathna | 16.03.2007 |
| 57 | 20 | Capt | IKKU Kularathne | 01.06.2007 |
| 58 | 7 | Lt Col | RASA Ranatunge | 06.07.2007 |
| 59 | 20 | Capt | WS Wickramapala | 02.01.2008 |
| 60 | 18 | Capt | MWU Sathyajith | 09.01.2008 |
| 61 | 17 | Capt | DLDD Liyanage | 02.03.2008 |
| 62 | 21 | Lt | LEMG Mohomad | 01.04.2008 |
| 63 | 20 | Capt | WGS Wijesuriya | 29.04.2008 |
| 64 | 17 | Capt | HWRR Samarasinghe | 04.05.2008 |
| 65 | 15 | Capt | WAAS Sakalasuriya RWP RSP | 04.09.2008 |
| 66 | 17 | Maj | NPHMP Karangoda | 19.12.2008 |
| 67 | 19 | Capt | RMRBUWS Wickramanayake | 03.02.2009 |
| 68 | 21 | Capt | MDY Chandrajith | 22.03.2009 |
| 69 | 18 | Capt | GS Pandigamage | 08.02.2010 |
| 70 | 10 | Maj | PMJP Perera |   |
| | | | | |
| --- | --- | --- | --- | --- |
| SR No. | INTAKE | RANK | NAME | DATE |
| 1 | 6 | S/Lt | DY Liyanarachchi | 11.07.1990 |
| 2 | 2 | LCdr | S Gunasekara | 16.11.1992 |
| 3 | 9 | A/S/Lt | CG Punchihewa | 29.09.1993 |
| 4 | 6 | LCdr | DJMNC Jayathilaka | 11.11.1993 |
| 5 | 4 | LCdr | MAJH Wijewardana RSP | 26.08.1995 |
| 6 | 9 | Lt | HRHM Indrananda | 17.10.1995 |
| 7 | 6 | LCdr | EW Wickramarathna | 01.11.1995 |
| 8 | 5 | LCdr | TD Palihena RWP | 22.01.1996 |
| 9 | 5 | LCdr | JLDES Wijitunga PWV | 30.03.1996 |
| 10 | 5 | LCdr | MS Abeynayake | 19.07.1996 |
| 11 | 10 | Lt | SPK Muththettuwatte | 19.07.1996 |
| 12 | 8 | LCdr | NKI Nishad WWV | 20.10.1996 |
| 13 | 7 | LCdr | MAS Amarasekara | 26.10.1996 |
| 14 | 3 | LCdr | PS Vidanapathirana WWV | 19.07.1997 |
| 15 | 11 | Lt | AWB Vitharana RSP | 19.10.1997 |
| 16 | 7 | LCdr | KN Aluthge | 22.02.1998 |
| 17 | 4 | Cdr | SHU Dushmantha WWV RWP RSP | 30.10.1998 |
| 18 | 11 | S/Lt | WRWMSHB Wickramasinghe | 30.10.1998 |
| 19 | 12 | Lt | ASKA Kankanamge RSP | 15.12.1998 |
| 20 | 8 | LCdr | SDS De Silva RSP | 06.06.2000 |
| 21 | 15 | LCdr | NAMB Neththisinghe | 21.02.2000 |
| 22 | 13 | LCdr | MDDL Ranjan | 30.10.2000 |
| 23 | 9 | LCdr | MSK Silva RWP RSP | 26.12.2004 |
| 24 | 7 | Cdr | MAK Manorathna | 07.01.2006 |
| 25 | 12 | LCdr | ELP Edirisinghe | 11.05.2006 |
| 26 | 21 | Lt | WMNC Wijesundara | 17.10.2006 |
| 27 | 19 | Lt | PGA Geethanga | 09.11.2006 |
| 28 | 13 | LCdr | ONMR Panditharathne | 09.11.2006 |
| 29 | 19 | Lt | DDNM Premarathne | 11.11.2006 |
| 30 | 14 | Cdr | EALC Ekanayake | 26.12.2007 |
| 31 | 20 | LCdr | WJSR Perera | 22.03.2008 |
| 32 | 10 | LCdr | NCK Abeysinghe | 19.01.2009 |
| 33 | 12 | Cdr | SNK Silva RSP | 12.05.2009 |
| 34 | 15 | LCdr | RMPB Rajapakse | 16.02.2010 |
| | | | | |
| --- | --- | --- | --- | --- |
| SR No. | INTAKE | RANK | NAME | DATE |
| 1 | 4 | Fg Off | SPB Liyanage | 06.08.1989 |
| 2 | 4 | Sqn Ldr | RMS Rathnayake | 05.07.1992 |
| 3 | 6 | Flt Lt | NJ Premarathne | 05.07.1992 |
| 4 | 6 | Flt Lt | MVKBH Wijayakoon | 05.07.1992 |
| 5 | 6 | Sqn Ldr | HS Liyanage | 28.04.1995 |
| 6 | 1 | Wg Cdr | VK Welgama | 29.09.1995 |
| 7 | 5 | Sqn Ldr | DS Wickramasinghe RWP RSP | 22.11.1995 |
| 8 | 5 | Sqn Ldr | D Modaragama | 02.06.2002 |
| 9 | 12 | Flt Lt | RSNR Rajapakse | 15.08.2002 |
| 10 | 12 | Sqn Ldr | BGIL Muthukumarana | 01.03.2007 |
| 11 | 15 | Sqn Ldr | WAB Navinda | 25.03.2007 |
KDU excels in Times Higher Education Impact Ranking tables 2022
KDU was Ranked 2nd in Sri Lanka for the Quality of Education in The Times Higher Education Impact Rankings tables. In terms of overall ranking, it is also placed fourth in the country and 801 – 1000 globally.
KDU's ranking in SDG 4 (quality education) reflects KDU's contributions to improving student facilities by investing in new infrastructure, establishing state-of-the-art laboratories, initiatives to establish smart classrooms and distance learning facilities, the support provided to students during their early years by providing free laptops, free Wi-Fi access, free food/accommodation facilities, and a variety of other benefits. KDU also believes that education is a vital means of overcoming inequalities. As a result, by introducing new programmes of study, KDU expands opportunities for higher education for students throughout the country.
KDU was ranked first in the country and 200+ globally in terms of reducing inequality. This demonstrates KDU's commitment to addressing economic, health-based, and international inequalities through a variety of initiatives, including the provision of a range of scholarships for local students to enrol in its degree programmes, free healthcare for registered students through medical facilities on campus, free healthcare for the general public through its teaching hospital, UHKDU, and the provision of concessionary course fees for international students joining its programmes from the regional countries.

The Times Higher Education Impact Rankings are the only global performance tables that assess universities to the UN's Sustainable Development Goals (SDGs). The most recent edition includes 1,524 universities from 110 countries and regions spread across 18 tables – one for each of the United Nations' 17 Sustainable Development Goals (SDGs), plus one overall ranking. The rankings show the impact across all 17 SDGs based on a series of more than 100 metrics and over 200 measurements covering universities' teaching, research, community outreach, and stewardship of their own resources.
KDU first entered THE impact ranking tables in 2022, and its remarkable success exemplifies the university's dedication to providing high-quality education.