KDU is a state university that offers a high-quality education to undergraduates, graduates, and professionals.
KDU's many faculties provide over 50 distinct degree programs, many of which offer opportunities for engagement and learning. KDU fosters a distinct atmosphere for research, teaching, and community involvement.
Library
KDU library network consists of the Main Library, the Faculty Libraries of the Faculty of Medicine (FOM) and the Faculty of Allied Health Sciences (FAHS) and the Southern Campus Library. Further, the entire library network is Wi-Fi enabled with high speed internet connection to allow the students to access the internet, and it provides electronic access to full text databases to facilitate research activities of the University. Also it provides internet-accessible computers to access Electronic Library Catalogues and various web pages related to research activities. Inter library loan, document delivery service, display of new arrivals and photocopying are some of the facilities provided for its users in order to meet the information needs of both students and the staff.
University Hospital of KDU


The University Hospital of KDU has commenced with the aim of filling the lacuna existed in the healthcare service sector in Sri Lanka by providing a state-of-the-art holistic patient centric healthcare service in all branches of medical specialties and sub-specialties while facilitating the training of medical and para-medical professionals. The UHKDU stands out as a unique hybrid model of healthcare service in the country with its public, all services are free of charge to the patient and private wings which offers all care service for an affordable price in a more luxury, comfortable and friendly atmosphere.
Huawei Innovation Laboratory


Huawei Innovation Laboratory -KDU will facilitate undergraduate and post-graduate research work, provide a platform to develop solutions and products for industrial needs, and conduct certification courses on cutting-edge ICT technologies.
Further Huawei Innovation Laboratory facilitates professional technical certification. The training programs aim to provide high-quality ICT talent for Sri Lanka and the South Asian region to meet the changing market requirements and challenges of the ICT industry.
ICT Lecture Theatre


ICT lecture theatre of KDU is a state of the art lecture threatre which provides unique experience for learning as well as teaching. Before planning the structure of the theatre a survey was carried out to understand the use of technology to deliver lecture in an optimum manner. Using the knowledge gathered from high technology international laboratories and the experience we had running conventional lecture theatres for year the new ICT lecture theatre has been developed.
Research and Learning

Looking to improve your academic performance and study approaches? Our qualified and experienced academic and academic support staff can work with you to identify and develop research and learning skills that you need.
CCNA Laboratory


We have a state-of-art  computer laboratory including all the CISCO standards with Cisco certified switches and routers to get hands on experience with practical usage of networking. Also With Cisco Learning Labs, Cisco IT learners can access and implement  routing and Layer 2 core switching lab configurations virtually over the Internet from  the convenience of a personal computer.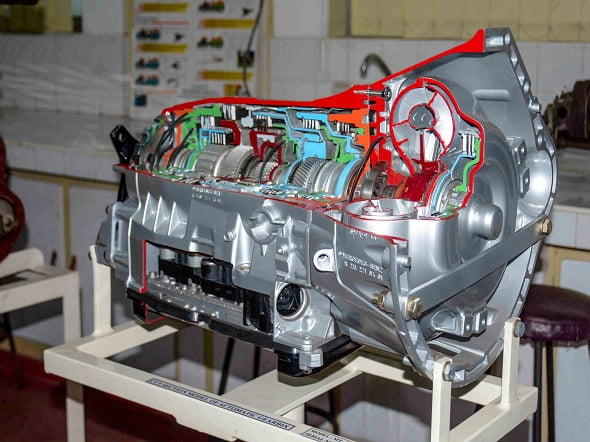 Automobile Laboratory
The Automobile Laboratory is a space designed for students and researchers to conduct experiments and develop skills related to the design, construction, and testing of automobiles and other vehicles. 
In the automobile laboratory, students and researchers work on projects involving the design, construction, and testing of vehicles for a wide range of applications. They study the performance and behavior of vehicles and their systems, such as engines, transmissions, and suspension systems, and develop models to predict and optimize their performance.
In addition to hands-on experimentation and project work, an automobile laboratory is equipped with audiovisual equipment and other resources to support teaching and learning.
Overall, the automobile laboratory at our university is a vital resource for students and researchers interested in exploring and advancing the field of automotive engineering. It provides a space for hands-on learning and experimentation, as well as the opportunity to work on real-world problems and projects.
Control and Mechanics Laboratory


The Control and Mechanics Laboratory is a space designed for students and researchers to conduct experiments and develop skills related to control systems and researchers to conduct experiments and develop skills related to the application of mechanical principles to real-world problems.
Overall, the applied mechanics laboratory at our university is a vital resource for students and researchers interested in exploring and advancing the field of applied mechanics and control systems. It provides a space for hands-on learning and experimentation, as well as the opportunity to work on real-world problems and projects.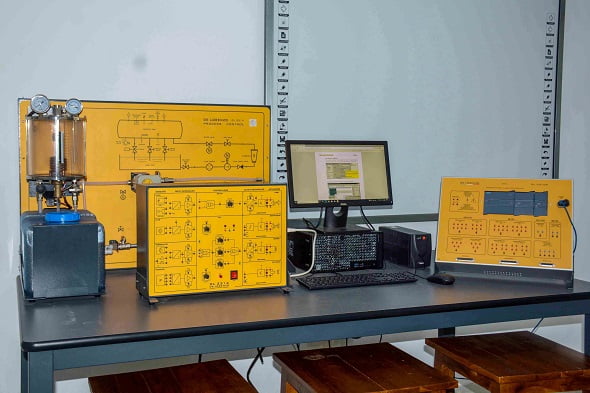 Manufacturing Laboratory
The manufacturing laboratory is a facility that is equipped with a wide range of machinery and tools for prototyping, testing, and producing a variety of products. This laboratory is a hands-on learning environment that provides students with the opportunity to apply the theories and principles they have learned in their coursework to real-world projects.
In addition to these resources, the manufacturing laboratory is staffed with experienced instructors and Lecturers who are available to assist students with their projects and provide guidance on best practices in manufacturing. This lab is a key resource for students studying engineering, industrial design, and other related fields, and provides a valuable opportunity for hands-on learning and applied research.
Mechatronics Laboratory


The Mechatronics Laboratory is a state-of-the-art facility that provides students with the tools and resources they need to conduct experiments and research in the field of mechatronics.
The laboratory is equipped with a wide range of equipment and tools, including Programmable Logic Controllers, Human-machine Interfaces, Microcontrollers, Sensors, Motors, and other Electromechanical components. These equipment/apparatuses allow students and researchers to design and build prototypes, test, and debug systems, and analyze data to optimize performance.
The Mechatronics Laboratory is a collaborative space that encourages students from different disciplines to work together on projects that involve the design and development of robotic systems, automated systems, and other electromechanical systems.
Marine Engine Laboratory
The Marine Engine Laboratory provides widespread exposure to marine machinery to marine engineering undergraduates. Most of the machinery and associated components available in the laboratory were received from various classes of ships and crafts belonging to Sri Lanka Navy. As of today, the laboratory is equipped with training facilities of machinery component measuring room, Diesel injector testing facility, cut model of a Chinese 12V L180 engine removed from Fast Gun Boat (FGB) belong to Sri Lanka Navy, various models of diesel marine engines removed from different classes of warships, A complete CPP propulsion unit, Cut models of various components of marine machinery such as turbochargers, pumps, Fuel Injection Pumps…etc, a complete Hamilon water jet system used onboard Inshore Petrol Craft in Sri Lanka Navy, Incline experiment apparatus, display units of different types hull protection devices, filters, belts, marine seals, packing and bearings …etc, Cut models of low power and high power Out Board Motors (OBM) which can be effectively used for deepening the knowledge of the operation and working principles of Marine machinery/ auxiliaries and propulsion systems.
e-Library Facility

FGS has provided e-Library facility for all post graduate students through their official email accounts, which is much useful for online studies. Further, KDU provides a variety of e-teaching and e-learning assistance and services to help them navigate, discover and evaluate the vast e-collections at Libraries and beyond.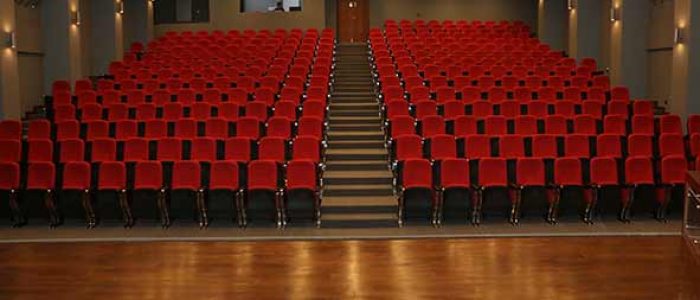 Modern Auditorium
The auditorium is designed with a focus on comfort and modern technology. It has high-definition audio-visual systems that can accommodate a variety of presentations. Additionally, it features a large digital screen, and LED lighting to create an immersive viewing experience. It also provides free wi-fi access and charging stations to help keep everyone connected. The facility also has comfortable seating.
24 x 7 Laboratory
The 24/7 research laboratory has been set up mainly to cater to high-end research by postgraduate students and research fellows. This facility is also open to undergraduate students of the department. The laboratory is equipped with modern equipment and design/ simulation tools. It is built to give a rich working environment with all the necessary support facilities. The laboratory is open round the clock.
Clinical Skills Lab
Faculty of Medicine of General Sir John Kotelawala Defence University (KDU) has taken the initiative to establish Clinical Skills Lab, right from its inception. The facilities available, including the high fidelity SIMMAN simulator has already placed it as one of the well equipped skills lab in the South East Asian region. The simulators available are being used for both training and assessment of clinical skills of undergraduates. Furthermore, the scope for advanced training and evaluation of skills in emergency resuscitation has been recognized and are being developed for training of postgraduates. The Clinical skills lab and simulation rooms together with debriefing rooms provide the opportunity for the undergraduate and postgraduate students to engage in simulation based medical education with its recent advances.
Anatomy Museum & Dissection Hall
The pre-clinical department of the Faculty of Medicine KDU has a state of the art dissecting hall where over 100 students can carry out cadaveric dissections at the same time. The facility has space for dissection of 10 bodies at one time and the academic staff overseas the dissecting sessions. Students are encouraged to do the dissections with the assistance of demonstrators and academic staff. The department also has a large number of Human anatomy models which are used for teaching and demonstrations.
The preparation of the donated bodies are done in the embalming rooms and preserved in formalin baths and freezers. The academic staff and the supportive staff are involved with the preparation of specimens for teaching and demonstrations. These specimens are displayed in the anatomy museum for teaching of medical and allied health students.